DESIGNING TIMELESS CUSTOM WOODEN YURTS SINCE 2012
"Our experience with Dream.Design.Build. has been nothing short of extraordinary. The plans Matthew created were fantastic, a real work of art. The builders we have been dealing with have also been impressed with his work and detailed plans. If anyone is thinking about an architect for a future project, we would have no problem in talking to anyone about Matthew and the project we hired him to do."
Tim and Tina Schmitt
Lyons, CO
"Working with Dream.Design.Build was everything we hoped it would be and more. Matthew's combination of design talent, meticulousness, and extensive knowledge of Smiling Woods Yurts made the whole process from the first phone call to the final review of the plans really fun and easy. His responsiveness to our ideas, his clear, timely, and thorough communication eliminated all doubt right from the start. Matthew is a patient, friendly and all-around great guy, a real dream to work with. We are absolutely thrilled with the final plans, and the drawings themselves are stunning!
Emily Bradely
Acra, NY
"First, I would like to say Thank You! Matthew is A very talented architect. We had a challenging design! Matthew came through with 5 stars! We were amazed at his attention to detail. Matthew is professional organized and well-established in his field. Found ways to get energy efficiency and modern design details into cost conscious project."
Roger Stivala,
Greenfield Park, NY
"We have nothing but good things to say about Matthew. He was a joy to work with. He designed and built our dream home, a cedar yurt from Smiling Woods Yurts. Matthew made the process, from start to finish, a wonderful experience. Not only is he a great person in general, but his expertise in his craft was evident from the beginning. We feel very lucky to have found him. We are still in awe of his craftmanship! Not something you can say with newly built houses these days. He actually cares about quality! Can you imagine?"

I'll break it down for you: Meticulous + knowledgeable + experienced + trustworthy + kind = Matthew Smith
Jon Lin
Vashon Island, WA
"Matthew Smith of Dream. Design. Build has an amazing talent to turn your dream into a design that you will love. Don't even hesitate to send him an email! We couldn't have found anyone better to work with us to create our home plans with 2 yurts and a connecting breezeway. From the first phone call to the final plans being delivered he was very professional and allows his creative mind to solve any and all obstacles until you are 100% satisfied. He has some great ideas which helped turn our visions into a reality. We would most certainly use him again and recommend him to anyone looking for a unique build."
Married with Aloha
Hawai'i
"Matthew was a pleasure to work with. Great communication and easy to work with. Strongly recommend DDB to personalize your yurt design. Provides great ideas and is excellent at integrating your visions into an amazing living space. Clearly motivated to provide the very best."
Lonny Pace
St. Joe, AR
"Matthew and I worked on my dream home design back in 2017, just after I bought a piece of land on the Rogue River in southern Oregon. The land was sloped sharply down to the river and needed a creative eye to design its placement. Matthew traveled to my home site and laid it out perfectly! I built my Smiling Woods Yurt during 2018, after Matthew created the plans which I couldn't be any happier with. He was professional and very easy to work with. I highly recommend him to help design your dream home also! "
Susan Reny
White City, OR
"Dream.Design.Build is the real deal. Matthew Smith is a talented architect who works tirelessly to address the needs of his clients while introducing them to new design concepts and smart planning. He combines artistry and functionality in the best way. We loved every minute of working with him on our primary home in the mountains of New York. Matthew's attention to detail and follow through culminated in a hands-on oversight of the initial construction period. We couldn't be happier with our experience with Dream.Design.Build!"
David Wannen
Poughquag, NY
"Matthew designed and built my beautiful wooden yurt on Stuart Island, a remote unserved island in the San Juan's. The design is exquisite, a round building with a covered deck surrounding the front. His ideas and suggestions helped me envision and then complete this lovely structure. He and his crew worked steadfastly so that I could be in my yurt the following summer. Look at the photos and you'll understand my enthusiasm."
Rae Ann Engdahl
Stuart Island, WA
"Matthew was a pleasure to work with and a kind family man. He was able to understand our needs and turned our rudimentary drawings into beautiful floor-plans and 3D drawings. He was also always quick to respond, helpful in answering all of our questions, and provided sound advice with his expertise and familiarity in the field of "round-house" architecture. I would highly recommend working with Matthew to develop your designs into your new home. "
Roarke Jennings
Port Townsend, WA
"We had Matthew design our yurt in 2018. We enjoyed the process and were very happy with his services. He is easy to work with and prompt to return our emails or calls when we had questions. We loved our design and outcome."
Karla Putts
Eureka Springs, AR
"Despite the CORONA-19 setbacks, and despite having to uproot his design trade to fly out of country, Matthew still came through. Matthew was easy to work with and when I thought our plans might have slipped his mind, he pops up and emails us some rough drafts for us to look at. Nice! He managed to take what might have looked like a kid's drawing and turn it into a fully engineered plan of what will become our dream home. Again, he did this despite all of the setbacks and challenges he had to personally work through. Awesome job Matt! Thank you."
Kurt Langeberg
Centralia, WA
Dream.Design.Build. offers design services, building plans, and experienced construction consultation for all types of residences.
Matthew Smith, Founder & Principal of Dream.Design.Build., has been designing custom homes for Smiling Woods Yurts clients since 2012. With an extensive background in both architecture and construction, he is an industry leader in yurt house design.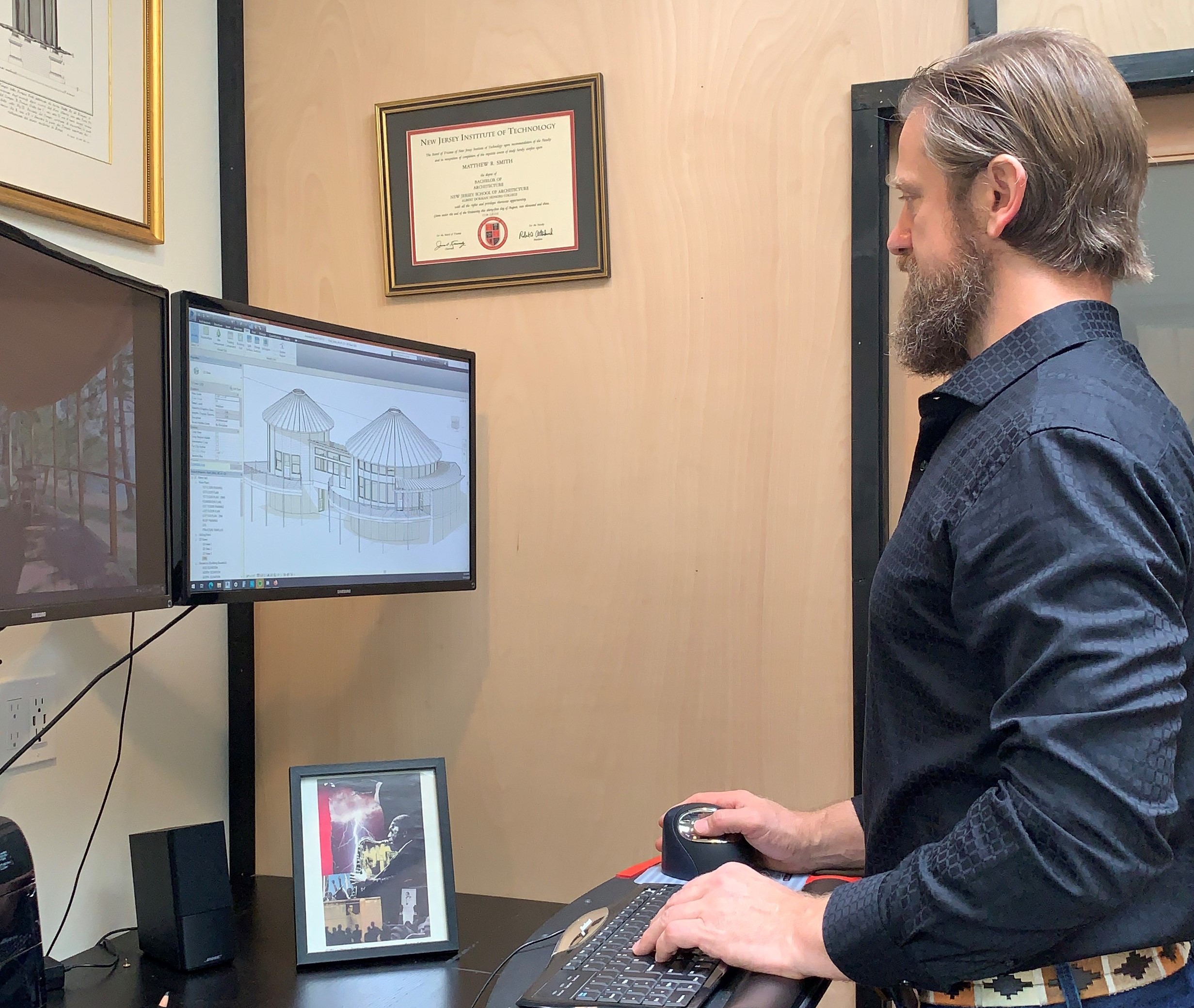 MATTHEW SMITH, PRINCIPAL
info@dreamdesignbuild.org
DREAM.DESIGN.BUILD.
2205 NE 175TH STREET
SHORELINE, WA 98115